Mastro is Easy.

Mastro has a modern and user-friendly interface. Charts are beautiful and interactive. See the aspects of a planet just by placing your cursor over it. Drag and drop planets to move forward or backward in time. Our documentation covers everything and is easy to understand.

Mastro is Powerful.

Mastro has all the features you want and much more, including natal charts, transits, bi-wheel and tri-wheel charts, progressions, harmonics, returns, profections, primary directions, midpoints, lunar nodes, asteroids, fixed stars, eclipses, ingresses, interpretation, and the list goes on.

Mastro is Customizable.

Mastro can be tailored to your needs, both appearance-wise and functionality-wise. It supports multiple coordinate systems (tropical or sidereal), reference planes, chart styles, house systems, and subdivisions. Orbs are customizable by angle or by planet. Mastro is available in English and in French.

Mastro is Unique.

Mastro Expert contains the world's first expert system for natal, event, and synastry analysis, a groundbreaking achievement that is the result of years of research. This system powers two features that are exclusive to Mastro: the synthesis tree, and the new Forecast Curves. See some examples.
Forecast Curves
A truly revolutionary new feature that leverages the power of Mastro's unique expert system to provide an incredibly reliable and user-friendly way to foresee various types of events over a given period of time. Only available in Mastro Expert.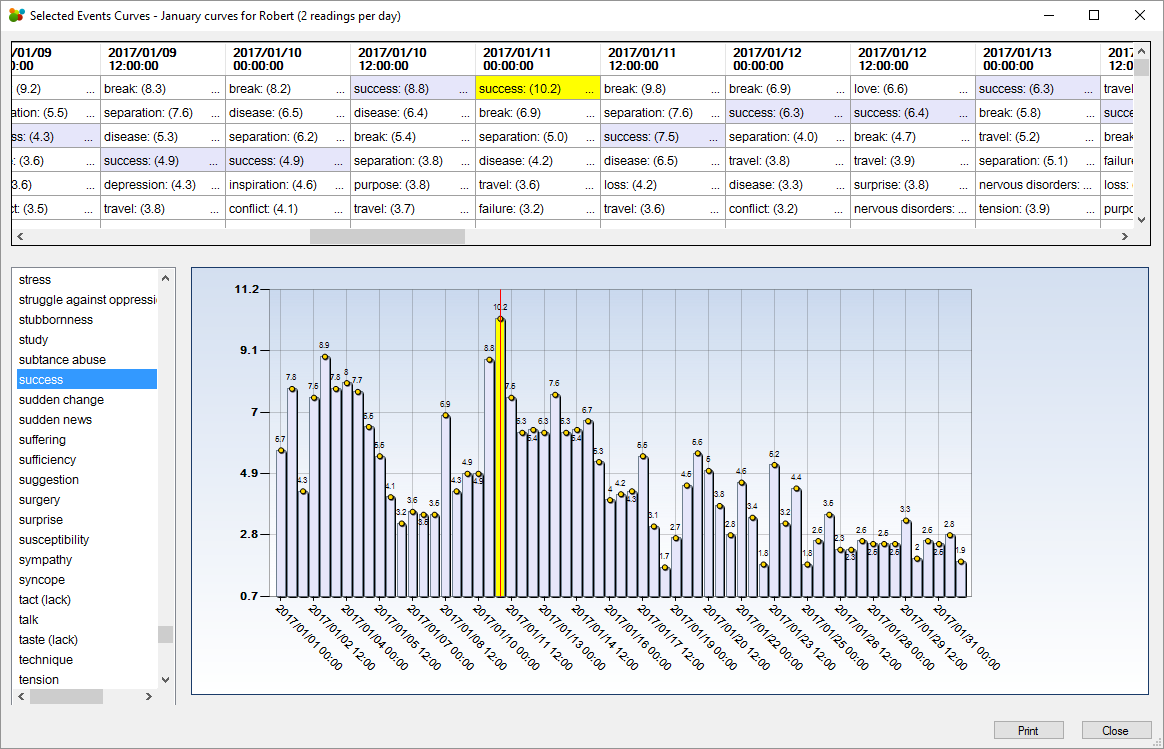 "The best astrology software in the world."

— Axel Harvey, historian, author, translator, astrologer, researcher
Get Mastro
Mastro comes in three editions: Standard, Pro, and Expert.
The best free astrology software in terms of features, ease of use, and performance.

Adds pro features such as:

tri-wheel charts
chart manager
database of 1200+ public figures
search features (direct motion, retrograde, lunar phases, drag & drop, etc.)
90° dial

Includes all the features of Mastro Pro

+

The world's first expert system for natal, event, and synastry analysis.
Learn Mastro
We have many resources available to anyone who would like to learn Mastro.
The official blog of François and Vincent, the creators of Mastro. They share their knowledge of astrology and provide Mastro tips & tricks on a regular basis.

Whether you need help getting started or would like to learn Mastro's advanced features, these video tutorials are the perfect companion to our software.

Your satisfaction is our number one priority. You can contact us anytime with any question, problem, or suggestion, and we will be happy to help.